Assist Immigrants and Refugees
Board of Supervisors Proclaim
Refugee Awareness Month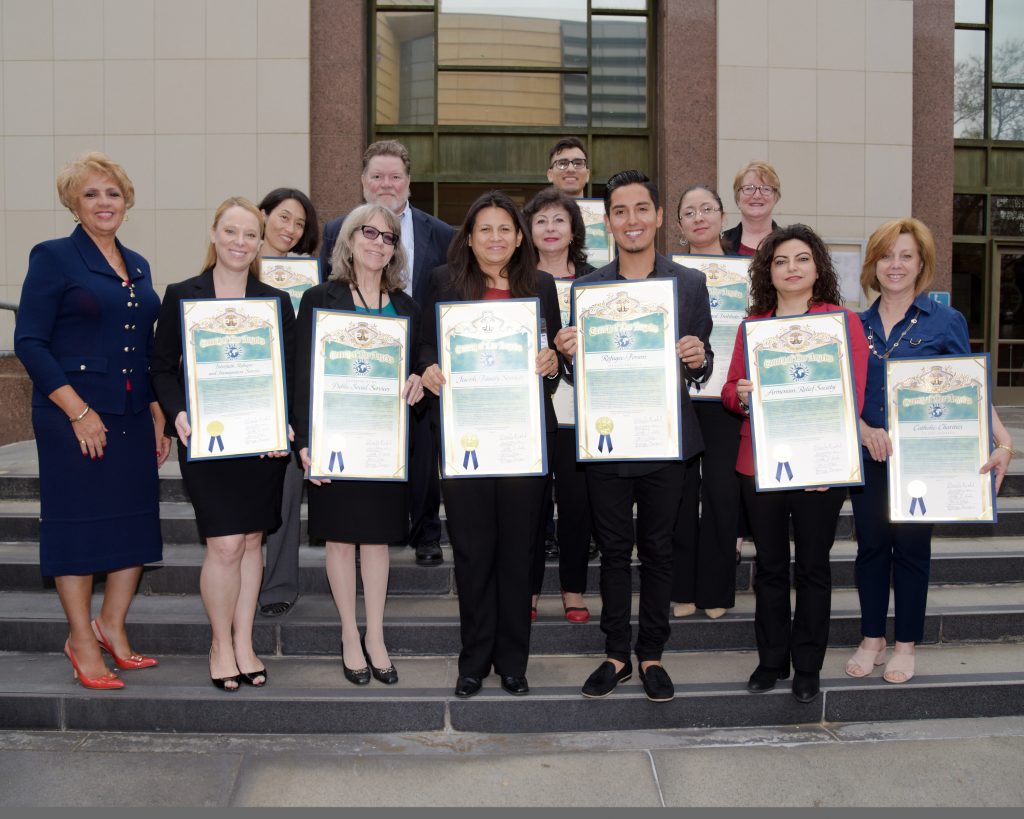 On June 6, 2017, the Los Angeles County Board of Supervisors proclaimed June as Refugee Awareness Month. Catholic Charities' employees Brenda Thomas, top row, far right, director of Catholic Charities' Central Intake Unit program, and Sona Yaghazarian, client resources coordinator III in Catholic Charities' Immigration and Refugee Services' program, front row, far right, received certificates of the proclamation. Sheryl Spiller, director of the Los Angeles County Department of Public Social Services, is on the left.
____________________________________
Assist Immigrants and Refugees
Catholic Charities began providing immigration assistance during World War II, when refugees sought safety on American shores.  Today, most clients seeking immigration services are coming from Afghanistan, Central America, Iran, Iraq, Syria and Mexico.
Services are structured to assist newly-arrived immigrants in learning English, obtaining education, navigating legal matters, and training for jobs that will provide at least a living wage.  American social norms are taught, as well. These programs have a proven track record of helping immigrants transition and contribute to society.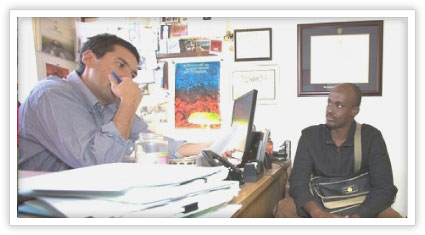 _____________________________
Catholic Charities of Los Angeles Serves Unaccompanied Minors
In early June 2014, President Obama declared a state of emergency at our southern border, as people across the nation saw on the news images of young children surrendering to Border Patrol officers and being crammed into cement holding cells. People were shocked and confused, not understanding why this was happening or what our response as a country should be.
For over ten years, Catholic Charities of Los Angeles' Esperanza Project has been serving the most marginalized of immigration populations – children and adults in immigration custody. Working quietly to help these isolated populations, Esperanza's staff was not at all surprised at the large number of children crossing the border. They had watched as the nationwide average doubled each year since 2011, going from 6,000 to 12,000, to 24,000 and now over 50,000. They knew the numbers would continue to increase because they were aware of the reasons why the children were coming. The children told stories of gang violence, extortion, forced gang recruitment akin to child soldiers, gang members forcing young girls to become their "girlfriend," and the police either doing nothing – or worse – colluding with the gangs.
As the news media, lawmakers and foundations struggled to understand this issue, Esperanza served as a valuable resource, explaining our complex immigration detention system, as well as the reasons why the children were coming. Esperanza's program director spoke at events convened by lawmakers. Esperanza's directing attorney, Lindsay Toczylowski, spoke to President Obama's staff and senior administration officials at the White House.