Santa Barbara County
Santa Barbara
609 E. Haley St.
Santa Barbara, CA 93101
(805) 965-7045
Carpinteria
941 Walnut Street
Carpinteria, CA 93013
(805) 684-8621
Santa Maria
607 W. Main Street
Santa Maria, CA 93454
(805) 922-2059
Lompoc
325 North Second Street
Lompoc, CA 93436
(805) 736-6226
_____________________________________________
Santa Barbara Community Services Center Mourns the Passing of a Devoted Donor
Harold "Fritz" Cahill will be remembered by the staff and clients of Catholic Charities' Santa Barbara Community Services Center as the kind and dedicated donor, supporter and volunteer who, every week for 24 years, purchased and tirelessly delivered staple food to Santa Barbara Community Services Center's food pantry to help feed the poor.
He credited his mother, Josephine, for his charitable work for, in spite of a large family, she fed sandwiches and coffee to the hungry off her front and back porches during the Depression and WWII. In 2009, Fritz and his wife, Eleanor, were honored with the Pro Ecclesia et Pontifice award by Pope Benedict XVI for their exceptional service to the Catholic Church.
Mr. Cahill passed away on February 1, 2017 at the age of 86 at his home in Santa Barbara.
Rest in peace, Fritz Cahill.
______________________________________________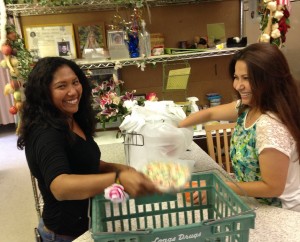 WE GET BY WITH A LOT OF HELP FROM OUR FRIENDS
The Santa Barbara County area of Catholic Charities of Los Angeles, Inc. remains committed to helping low-income families and persons who continue to struggle with the effects of the economic downturn. With the support of dedicated community members and volunteers, we, collectively, are rallying to help stabilize those in crisis.
Since 1924, the Region has raised funds to directly support the mission of helping to prevent hunger and homelessness. Catholic Charities is the only organization in Santa Barbara County that offers rental and utility financial assistance through the ESFP and HPRP government grants. In fiscal year 2015-2016, 20,486 clients were provided with 162,113 services.
The Thrifty Shopper (Thrift) stores in Santa Barbara and Santa Maria represent another effort to help the community. Donations from the public provide clients with free clothing and household goods, while revenue from sales help support the agency's programs and services.
Services Provided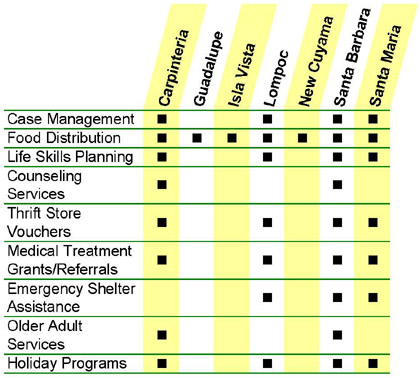 609 E. Haley St.
Santa Barbara, CA 93103
805-966-9659

607 W. Main St.
Santa Maria, CA 93454
805-922-4174

Community Service Centers

941 Walnut St.
Carpinteria, CA 93013
805-684-8621

325 North Second Street
Lompoc, CA 93436
805-736-6226

609 E. Haley St.
Santa Barbara, CA 93103
805-965-7045

607 W. Main St.
Santa Maria, CA 93454
805-922-2059

Mobile Food Distribution Sites

4681 11th St.
Guadalupe, CA 93434
805-922-2059

6647 El Colegio Road
Isla Vista, CA 93117
805-965-7045

4711 Hwy. 166
New Cuyama, CA 93254
805-922-2059

Benjamin Foxen Elementary School
4949 Foxen Canyon Road
Sisquoc, CA 93454
805-922-2059