Rev. Monsignor Gregory Cox
Message from the Executive Director
Rev. Monsignor Gregory Cox welcomes you to our site and services.
Dear Friends,
Thank you for visiting our website. We dedicate our efforts to creating hope in the lives of the most impoverished and vulnerable members of our society by providing them with the help they need. Inspired by Christ's boundless love and generosity, we share our time and resources with the poor and disadvantaged in our society.
Nearly 16.3% of residents in Los Angeles, 13.9% in Santa Barbara, and 9.8% in Ventura counties are defined as poor (the national average is much lower, at 12.7%). Among the leading causes of poverty and homelessness, which often force people into emergency situations, are high housing costs and low paying jobs. In California, a full-time minimum wage job pays $11.00 per hour. Employment paying, at least, a living wage of $18.95 per hour is required to keep a family of four out of extreme poverty. A wage earner in the three-county area must make over $25.00 per hour to afford a one-bedroom apartment at fair market rate.
In Los Angeles County, a two parent, two-child household requires over $43,000 per year for basic needs. Therefore, one in three working families cannot pay for rent, health care, transportation, food, taxes and other necessities of daily life. The majority of clients who came to Catholic Charities during the 2016-2017 fiscal year had annual incomes of under $20,780.
Catholic Charities, on average, provides over 840,000 services to more than 116,000 different individuals who benefit from a wide range of our programs and services, each year. Yet, we do not do it alone. We work in cooperation with governmental agencies, religious organizations, businesses, foundations, other social service agencies, and thousands of individual supporters. They each play a significant role in reaching out to the poor.
If you need help, or if you would like to offer your help, please contact our staff at any of our offices, community centers, food banks, and shelters scattered throughout Los Angeles, Santa Barbara and Ventura counties. We are honored to serve everyone who needs our assistance.
God bless,
Rev. Monsignor Gregory A. Cox
Executive Director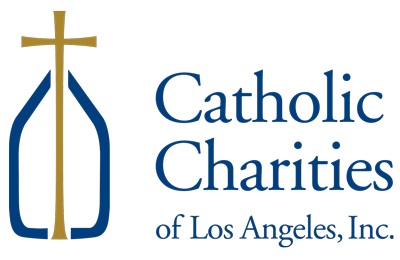 1531 James M. Wood Blvd.
P.O. Box 15095, Los Angeles, CA 90015
(213) 251-3400  |  info@CatholicCharitiesLA.org
©2023 All Rights Reserved. Catholic Charities of Los Angeles, Inc.
Catholic Charities of Los Angeles, Inc. is a 501(c)(3) nonprofit, public benefit corporation accredited by the Council on Accreditation.