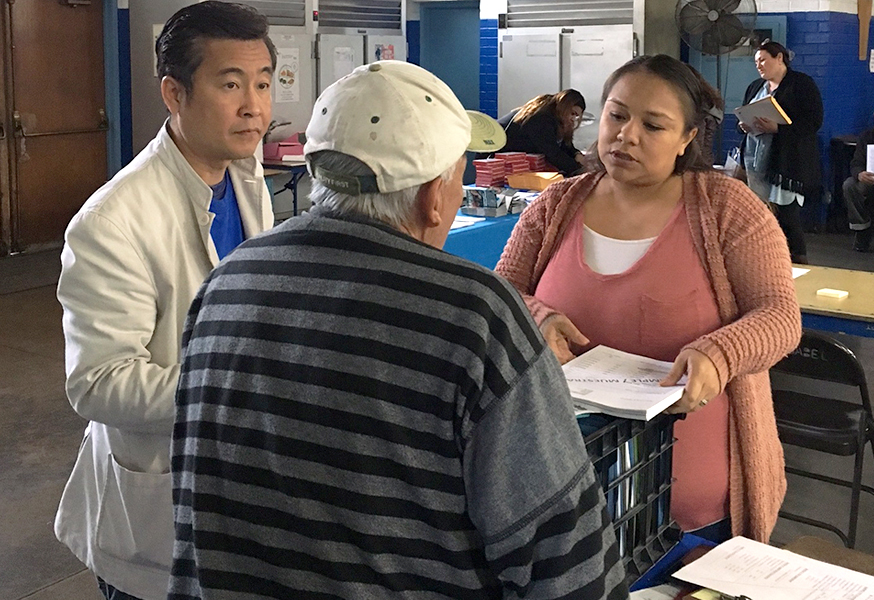 Participants of the Citizenship Workshop learn how to apply for U.S. Citizenship.
Our partners and additional resources include:
•  Catholic Legal Immigration Network, Inc.
•  National Association of Latino Elected & Appointed Officials
•  The New Americans Campaign
•  CitizenshipWorks
Click on the video below to learn of the wonderful work of Catholic Charities' Immigration and Refugee Resettlement Program.
Assist Immigrants & Refugees
Immigration Services
Catholic Charities of Los Angeles (CCLA) provides support and advocacy to individuals and families, helping them to legalize their residency status and become naturalized citizens. The primary objective is to reunite families by legalizing persons residing in the United States without lawful immigration status, and by assisting in the lawful immigration of family members to the United States. The program is structured to encourage economic independence in immigrant families, assimilation into the broader culture and a commitment to giving back to society.
The CCLA Immigration and Refugee Resettlement Program has been featured on multiple media outlets. On February 22, Gabriel Castro, Directing Attorney for Catholic Charities' Immigration Program, spoke with CGTN America about recent government focus on undocumented immigrants in the United States. Mr. Castro discussed how immigrants can preserve their legal rights, as well as the limited protection offered by sanctuary cities, such as Los Angeles. You can view full coverage here.
Services Offered:
Recognized by the Board of Immigration Appeals for over 50 years, the Immigration and Refugee Services of CCLA has assisted thousands of immigrants by providing legal representation through the complex immigration system. With four locations throughout Los Angeles County, we offer a variety of legal services including, but not limited to:
•  Family Visa Petitions
•  Adjustment of Status Applications
•  Consular Visa Processing
•  Naturalization Services
•  Deferred Action for Childhood Arrivals (DACA) Applications
CCLA immigration counselors are available to help individuals determine their eligibility for United States citizenship. We offer bi-weekly Citizenship workshops in our downtown offices. To register for our in-house workshops, please call (213) 251-3411.
In addition, the United States Conference of Catholic Bishops (USCCB) has supported Comprehensive Immigration Reform for many years. Catholic Charities of Los Angeles supports the USCCB position. The USCCB supports Comprehensive Immigration Reform that:
•  Provides a path to citizenship for undocumented persons in the country
•  Preserves family unity as a cornerstone of our national immigration system
•  Provides legal paths for low-skilled immigrant workers to come and work in the United States
•  Restores due process protections to our immigration enforcement policies
•  Addresses the root causes of migration, such as persecution and economic disparity
Catholic Charities of Los Angeles – Metro Los Angeles
Languages: Spanish, English, Vietnamese, Chinese (Mandarin and Cantonese), and Farsi
1531 James M. Wood Blvd., Los Angeles, CA 90015
Monday through Friday, 8:30 a.m. – 5:00 p.m.
(213) 251-3411
St. Margaret's Center – South Bay
Languages: Spanish, English
10217 Inglewood Avenue, Lennox, CA 90304
Monday, Thursday and Friday, 1:00 p.m. – 5:00 p.m.
Tuesday and Wednesday, 8:00 a.m. – 5:00 p.m.
(310) 672-2208
Immigration and Refugee Services – Glendale
Languages: English, Arabic, Farsi, and Armenian
4322 San Fernando Road, Glendale, CA 91204
Monday, by appointment only
(213) 318-5711
There is a nominal fee for our immigration services. All fees must be paid in Money Order or personal check.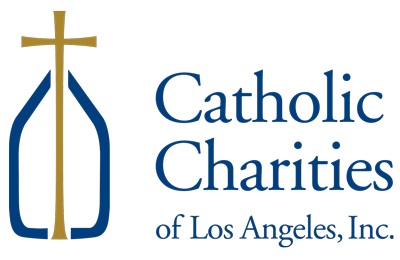 1531 James M. Wood Blvd.
P.O. Box 15095, Los Angeles, CA 90015
(213) 251-3400  |  info@CatholicCharitiesLA.org
©2018 All Rights Reserved. Catholic Charities of Los Angeles, Inc.
Catholic Charities of Los Angeles, Inc. is a 501(c)(3) nonprofit, public benefit corporation accredited by the Council on Accreditation.