Employee Training & Development
Catholic Charities is committed to ensuring that all employees are properly prepared to deliver quality services to the many thousands of individuals and families served each year.  Training is viewed as an essential component for the professional development of the staff at Catholic Charities.
The two main components are the New Hire Orientation and Employee Development/Training.  Each employee is required to complete trainings as required by corporate, program requirements, contracts, COA and individual development.
To assist with the training, Catholic Charities has a number of resources/tools in place to assist in accomplishing this goal.  They are:
Training Library                                         DVD Collection
Educational Articles                                 Curriculum Outlines
PowerPoint Presentations                     Seminar/Webinars
Most of the training material is located on this employee portal under Training Library.  If you would like to borrow a DVD from the training library please contact Demetris Jones at djones@ccharities.org to make the request and it will mailed out to you within 1-3 days.  If you are local, you can pick the DVD up from the Human Resources Department and  keep it for up to two weeks.
What You Can Expect
You will find a wealth of reference material as well as up-to-date government and business information that should be of interest to you in your role as a manager or supervisor, such as:
The Policies and Procedures Manual
This section will replace your blue Policies and Procedures Manual binder.  Use only this section when researching current policy information because we will no longer update your blue binders with hard copies of the policies.
Training Information
Training Calendar
Up Coming Webinars
LAHSA's Centralized Training Academy Initiative – Three (3) tiered curriculum designed for staff of all levels within the sector.  Check with your manager for details on signing up for the on-going curriculum.
02/13/19 – Resources for Integrated Care: Falls Prevention for Older Adults
02/13/19 –  Case Management & Housing Navigator Training – This training is every other week.  Please check with your manager for details on attending.
Upcoming Training
03/12/19 – Management Leadership Training – 1530 Building – Basement
New Hire Orientation
New Hire Orientation
Corporate New Hire Orientation is the second Wednesday of each month.  The orientation is held in the Human Resources Department in the corporate office.  A program orientation should be conducted with all new hires within 3 days of employment.
Corporate Office Address:
Human Resources Department
1531 James M. Wood Blvd.
Los Angeles, CA 90015
(213)251-3440
Time: 9:00 am – 2:00 pm
Orientation Dates
February 13th
March 13th
April 10th
May 8th
June 12th
July 10th
August 14th
September 11th
October 9th
November 13th
December 11th
Employee Conduct & Work Rules - Policy HR 500
Employee Conduct & Work Rules

Requires employees to follow rules of conduct that will protect the interests and safety of all employees and the organization.
Employment with CCLA be at the mutual consent of CCLA and the employee, and that either party may terminate that relationship at any time, with or without cause, and with or without advance notice, consistent with policies HR 200 and HR 900.
Procedures
Employees with questions or concerns about any of the Employee Conduct and Work Rules are encouraged to discuss their questions with their supervisor or, if the supervisor is unable to resolve a question or concern, employees may contact the Human Resources Department for assistance. Employees can ask questions regarding these policies and/or issues in the workplace without fear of reprisal.
Rules of Conduct
CCLA expects employees to follow rules of conduct that will protect the interests and safety of all employees and the organization. It is not possible to list all the forms of behavior that are considered unacceptable in the workplace. In order to offer the employee some guidance on these standards, the following lists examples of infractions of rules of conduct that may result in disciplinary action up to and including termination of employment.
Unsatisfactory job performance.
Theft of property that belongs to CCLA, its employees, volunteers and/or clients including inappropriate removal or possession of property (including donated items) or unauthorized usage or possession of property.
Falsification or making a material omission on forms, records, timekeeping records and/or other CCLA documents.
Possessing, distributing selling, using or being under the influence of alcohol or an illegal drug during work hours whether on or off CCLA property.
Carelessness or negligence in the performance of one's duties.
Insubordination, rudeness or other disrespectful conduct.
Smoking in prohibited areas.
Possession of dangerous or unauthorized materials such as explosives or weapons in the workplace.
Excessive absenteeism or any absence without notice.
Unauthorized absence from work station during the workday.
Unauthorized use of telephones, mail system, photocopiers, fax machines, computers or other employer-owned equipment.
Violation of CCLA's Ethical Norms and policies including the personnel policies.
Harassing, threatening, intimidating or coercing another person contrary to these policies, the ethics of CCLA and/or the law.
Releasing confidential information about CCLA, an employee, volunteer and/or client, including giving unauthorized employment or other references.
Agency will give no preferential treatment for services to the board, employees, or consultants.
Corrective Action
CCLA may choose to terminate the employee or exercise its discretion in utilizing forms of correction that are less severe than termination. Examples of less severe forms of corrective action include, but are not limited to:
Extension of the Introductory Period.
Demotion.
Position transfer.
Verbal counseling.
Written warning.
Suspension of employment.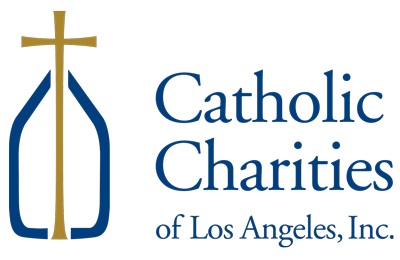 1531 James M. Wood Blvd.
P.O. Box 15095, Los Angeles, CA 90015
(213) 251-3400  |  info@CatholicCharitiesLA.org
©2018 All Rights Reserved. Catholic Charities of Los Angeles, Inc.
Catholic Charities of Los Angeles, Inc. is a 501(c)(3) nonprofit, public benefit corporation accredited by the Council on Accreditation.